First, thank you to Team Red, White, & Blue for this opportunity. A triathlete donated their deposit for the camp to Team RWB, and I happened to be willing to pay the remainder and able to attend. Thus, I ended up in over my head at Aero Camp!
This Aero Camp was the brain child of Accelerate3's Brian Stover, HD Coaching's Heath Dotson, ERO Sports and Alphamantis.
Let me start by saying it was an amazing experience!
I walked into the Velodrome – the first one I had ever even seen in person – and was terrified. Here's a shot of the group post-ride. And yes, that's the track, not the wall!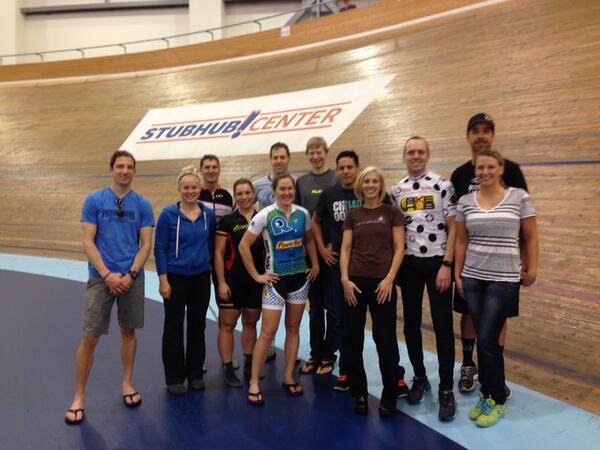 To kick off the camp, we got some instruction on track bikes from Missy Erickson – an all around-badass on the track, and an Olympic hopeful for 2016. She managed to get a bunch of triathletes riding in a pace line on fixed gear bikes on a track. Impressive! No crashes, either 🙂
The thing that really helped calm me down on the track was that faster = safer. If we ever felt like we might slip, just pedal faster! And with no potholes, hardware, furniture, or dead javalina to worry about – it was easier to just get in that mentality. Fast can be scary, but on a smooth track, it was awesome.
My confidence grew, even though my hands hurt from the death grip I had on the handlebars.
Anyway, next was lunch and a pool-side discussion of what we wanted to test.  With guidance from Brian and Heath, my run list looked something like this:
#1 – remove spacers under stem
#2 – possibly add a spacer
#3 – go narrower on my pads/bars
#4 – placeholder in case more fiddling is needed with my aero bars
#5 – remove bottle cage, use BTA (between the arms) bottle
#6 – one piece suit (2 piece was my baseline)
#7+ – helmet tests
We were set and ready to go…
Then, my ego took a blow…
That happened.
I knew my fit wasn't aero-optomized, but I didn't think it was THAT bad. Well – more room for improvement, right?
Jim from ERO had me jump on a trainer for a 3D Retul view of my fitting. He really wanted to lower my seat 2 cm before we even started, but we kept it, just so we could see what a drastic difference it would make.
This alone was an eye-opening and educational experience. Perhaps my too-high seat was a factor in my shin pain?
Given this info, we rehashed my testing plan.
With all of that work done, it was track time!!
Each testing run was about 12 laps. One lap to get up to speed, one lap to calibrate, and 10 laps of testing. We tested two people at at a time, so when one was testing, one was making changes. Let me tell you, by my final runs, I was getting TIRED!
#0 – baseline with current set-up
#1 – Saddle down 2cm; aero bar down approx 4cm
#2 –  -17 degree stem, s-bend extensions rotated in
#3 – Remove Cages, BTA installed
#4 – One piece suit trial
#5 – LG P09
#6 – Rudy Project Wingspan
#7 – LG P09 and attempted shrug
But wait, don't my #1 and #2 runs violate the rule-of-thumb of only changing one thing at a time? Yes. But, my fit was THAT bad. And, we were trying to get me to a more reasonable baseline position.
For me, my best run was #5. My BTA set-up was SLOWER than my bottle on the down tube setup. A one piece suit made virtually no difference over my two-piece tri suit. My shrug helped nothing.
I also left knowing I still have work to do on my fit. I need to get lower in the front, and probably longer. And get some shorter cranks. But, overall, I'm saving myself close to 35W, and that ain't bad. My first run is the top picture, my best run is the bottom one.
I'll leave you with some general observations:
-lower is better, until it's not
-speedsuits are only good if they fit WELL, and then, only for most people.
-the Trek Speed Concept also had really good numbers overall – similar to the LG P09 – it just seemed to be low drag, no matter what – same with the TorHans aero bottle
-shorter cranks aren't just a new trend – seems like they are a great way to go, especially for us shorter people. They suggested swapping my 172.5 for 165 or 160.
-things that look aero, or are aero for one person, might not actually be aero for you. for example, a girl had her torpedo-mount bottle sticking up really high. they put a smaller bottle in and changed the angle of the cage. it LOOKED faster, but it was slower. It even surprised the guys running the clinic.
-bottle position (torpedo-style mount beat frame mount – this is "generally" the most aero-neutral)